Funeral Services in Coachford And Surrounding Areas
The Fitz-Gerald family has been involved in providing undertaking and funeral services to families in Coachford, Dripsey, Canovee and surrounding areas since 1824.
We are now in our eighth generation and our team is both organised & experienced, focused on one simple belief - "dignity in all matters". Funerals have evolved to include cremation, direct funerals, eco funerals and humanist services, but Fitz-Gerald's still place huge emphasis on personal attention, professionalism and premium service.
Our Funeral Home and Funeral Services
Fitz-Geralds serve the communities of the Lee Valley including Coachford, Ovens and Lissarda from our modern funeral home in Macroom. This spacious building can comfortably accommodate 300 or more people and provides ample Car Parking.
It is suitable for Removals, Gatherings, Humanist & Civil Funeral Ceremonies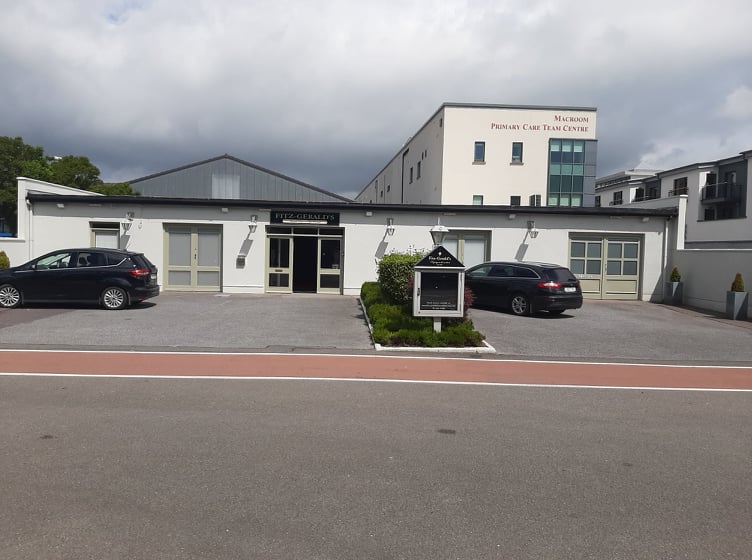 Arranging A Funeral
Arranging the funeral of a loved one is an extremely traumatic time. There are many choices to be made and legal requirements to be followed at a time of great distress.
It is our responsibility to ensure that the worry the family suffers is minimised from the moment they call us. This starts with meeting them at the place most convenient to them, whether this be the hospital, family residence or funeral home and continues through the process of ensuring all legal steps are carried out and the funeral is carried out to their wishes.
The funeral process in Ireland used to be standard. In recent years more options have opened for those of all faiths or none. At Fitz-geralds Funeral Directors we have broad experience of all funeral forms that the family may consider. These include Religious, Humanist and indeed, Direct Funerals.
While we have a modern Funeral Home available the family may choose to hold a wake at home or to forego a ceremony until after the funeral.
Cremation has become a more popular option in recent times and Fitz-Geralds have a long relationship with the Rocky Island Crematorium in Cork Harbour. We can arrange cremation directly or as part of a funeral service.
Direct cremation is available without any ceremony. Many families prefer this option and arrange a separate memorial or celebration of life ceremony later. It can be arranged simply and includes the provision of a coffin of choice, doctor's fees for medical papers, collection and care of the deceased and transportation to the Crematorium in a hearse.
Our Family Serving Yours
Fitz-Gerald's has a long and proud history of personal service to local communities. Carrying on the family tradition is a way of life for many independent funeral directors, and we are deeply committed to upholding professional standards.
Our aim is to be there for you day or night to carry out the funeral in a dignified and professional manner. We are there to help during the initial period of grief. Please feel free to contact us with any questions or concerns.